Can you tell us about your professional experience?
After studying International Business and graduating with a Master's degree from Neoma Business School, I worked for 17 years in the marketing/sales department of different companies like Danone and Albéa (formerly known as Alcan Packaging Beauty). I even had the opportunity to create a tourism/lodging company with two friends two years before AirBnB was born. Hotel and restaurant service have always been part of my professional experience since I was 15 years old.
What brought you to Vatel Bordeaux?
I came here as Director of Development and International Recruitment during the 2015 Vatel Project. I was in charge of setting up classes with instruction in English. After much consideration, I decided to join Vatel Bordeaux. I prepared myself for it. I did an internship at Hotel Thérèse and at Récamier, two 4-star establishments in Paris. I was also Director of the Presa di Goa Hotel in Goa, India. This position was just what I wanted: to work in the tourism sector and to put people and services at the center of my professional life by including an international dimension.
What are your prerogatives as academic director?
I coordinate and manage the relations between the various people at the school and the academic department; i.e. students, parents, teachers and speakers.
Let's focus on the details of your job. What is your role with students and parents?
I participate in all the teaching committees. There are three of them per year and per class. These meetings bring together class representatives, the educational requirements coordinator, Emmanuelle Beaudet for the bachelor's degree program and Lucile Moreau for the MBA program. We talk about courses, teachers, exam issues, personal concerns of the students and the individual academic situation of each student. The goal is to answer questions, find solutions, support or approve. I also hold individual interviews with students and their parents.
What is your role with teachers?
First, I am in charge of recruiting them. Then, we talk about the content of their courses and I validate their exam topics. I make sure that the topics covered in class or during exams conform to the Vatel Group syllabus. I also help them adapt their teaching methods in order to meet the expectations of the new generation of students.
How do you select your teachers?
In general, we must find the right balance between theoretical knowledge and practical skill. It all depends on the type of course. For example, the field of management is similar regardless of the business sector. In this case, we try to find someone who has a profile similar to that of a lecturer. For a course focused on a specific area in the hotel and restaurant industry, we opt for someone who is more specialized and has many years of practical professional experience. For example, Vincent Lacrampe-Camus (a speaker on the hotel environment) worked at Accor and Sodexo.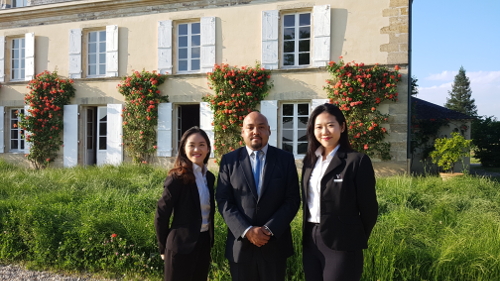 How does your experience as an international recruitment manager help you in your current position as Academic Director? And what about your experience in hotels in France and India?
Thanks to my experience in the field, at trade fairs and in universities, I was able to learn about the program of competing hospitality management schools and their strengths in order to come up with ideas to set our school apart from its competitors. I have also been able create and maintain current partnerships. By meeting professionals from the sector at the international level, I was able to understand their expectations and needs, whether in the hotel & restaurant service industry or the wines & spirits sector.
At Vatel, we train executives in the hospitality industry, including future hotel managers. My main mission is to hire qualified and experienced professionals including those who can teach our students about the hotel world. How do I choose the right person if I don't know anything about the context and the organization of a hotel?
What are the needs of hotel industry leaders?
It depends in part on the geographical area. There is a very high demand in Asian countries for:
Managers or future hotel managers who have worked in 4- or 5-star hotels in Europe. These students trained in Europe or in the United States return to their country of origin to take on managerial positions in local hotels.
Humble people, who are able to go back to the field immediately in urgent cases. At Vatel, the alternation between theory and practice allows students to constantly apply their knowledge and skills at the same time.
Young professionals who are willing to make the technological switch. The first criterion millennials looks for when choosing a hotel is the Internet connection. Vatel Hotel has a very high-speed Internet connection. For example at Vatel Bordeaux, we offer specialized digital marketing courses in the wine & spirits industry.
From an academic point of view, what are your goals and perspectives for Vatel Bordeaux?
We must systematically issue diplomas that certify the skill level of our students. We have already accomplished this for our Wine & Spirits program. We would like to do the same in modern languages to give students the opportunity to obtain a certificate in applied foreign languages (LEA).
We want to expand partnerships with other schools through Campus Chartrons or by hiring faculty members working for other universities such as INSEEC, IPC or KEDGE.
What are some of Vatel Bordeaux's upcoming projects?
We are opening a second campus, Les Halles, in September 2018. It will include a 3-star hotel and 5-star hotel as well as a farmers' market in the Bacalan district across from the Cité du Vin. Within 2 years, we will also open new professional application areas: a youth hostel and a student residence.
We are also launching the Bordeaux International Wine & Spirits Academy. It will provide:
- its professional members with access to databases (files for teachers and professionals, teaching aids, case studies, video conferences, etc.).
- a WSET diploma course.
- training & advice for all professionals in the restaurant industry and the wine & spirits sector (wine merchants, sommeliers, etc.) about managing their company;
- Introductory workshops, tasting conferences & "Accord Parfait" dinner in partnership with Les Tables Vatel.
- a wine club open to all wine lovers.
How would you define yourself as a person?
I am a visionary with a profoundly human heart. I always keep in mind that my team and I are responsible for the fate of young people and that the human factor remains essential.
Aware of a constantly changing world, Vatel Bordeaux's academic director Ludovic Glorieux remains focused on innovation to optimize the employability of young professionals graduating from Vatel Group's school in Bordeaux.