Could you present Vatel Bordeaux?
Vatel Bordeaux is an international school of hotel management since 26 years. It has 730 students over two campuses: 'Les Halles' for undergraduates (Bachelor 3rd year) and 'Les Chartrons' for MBA (5-year post-baccalaureate). We are fortunate to be 10 minutes away from the center of Bordeaux, in a young and modern neighborhood by the banks. It is the perfect place to pursue studies. Our courses are in English and French which makes us a diverse school boasting 58 nationalities. It's ideal when one dreams of going international.

You mentioned a young & modern neighborhood. Could you tell us more about that?
Chartrons, a historical Bordeaux quarter famous for its wine trade businesses, took 20 years of renovation. The banks area underwent alterations as well as its shops, restaurants and bars which resulted in wide entertainment options for our students, for chilling out after classes.Our second campus dedicated to undergraduate students that opened in September 2018 is located in the Bacalan area which is more of a business and touristic area that includes La Cité du Vin, Radisson Hotel, Le Musée de la Mer. It is a booming area that is now bustling with new projects, some expected to be ready in 2020: Residence Hallsof 160 studio flats along with a youth hostel of 230 beds: a 5-star hotel and a 3-star hotel of 130-150 rooms each. Our two campuses are located 10 minutes from each other and can be reached by tramway. In general, commuting in Bordeaux is easy via public transport.
What is the student profile you wish to recruit?
We are looking for dynamic and open-minded students who genuinely aspire to work in the hotel and food service industry. Young people with character who are not afraid of working hard and would not hesitate to take initiatives. After all, we are a service-oriented profession and our main aim is to satisfy guests and please them.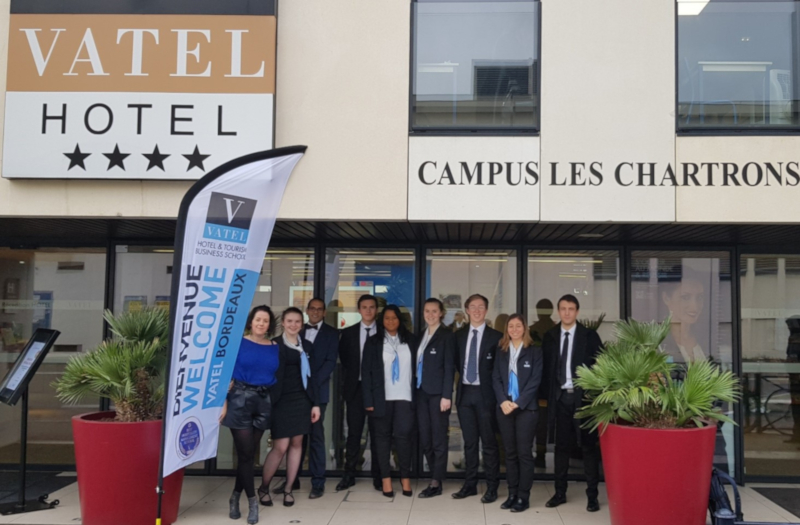 What are the job prospects offered by this course?
The hotel industry opens up a number of job prospects in different departments, in France and internationally. Our program introduces students to all these aspects so that each can find his own calling. Amongst these opportunities: food service positions and front office positions (reception, booking, concierge service, housekeeping), sales positions, PR, Event planning, HR and Finance. It is incredibly broad.
Can you tell us about the admission procedure at Vatel Bordeaux?
I recommend that interested individuals make enquiries about the school first and not hesitate to book an individual appointment given the open days are over. For me, it is essential that future students are well informed.
Each applicant can download the brochure and apply on vatel.fr website for French applicants and on vatel-bordeaux.com for international applicants (in English).
Application files should be then completed and sent to us along with all required documents. Upon receipt of the file, we analyse it and if it is accepted the student should sit an entrance exam. Entrance exams are also conducted online for applicants who live abroad.
Entrance exams lasts half a day, and consists of quizzes in French and English, tests measuring behaviour and logic, personal statements and an interview.If the applicant is accepted, we finalise his registration by scheduling an interview with the Academic Affairs department.
Vatel Bordeaux in 3 words ?
I would say family because we are family and we perceive our school as such. We are fortunate to have a great team who supports and guides our students. This is our strengh.
The second word would be 'professionalising'. When our students enter our workforce, they are already equipped with the right tools. The industry is aware of this, thus the high employability of our graduatres. This gives us sense of worth.
And of course international. What could be more natural for our students then to choose the international path when graduating from Vatel? Our students are immersed in a multicultural environment, they are perfectly adaptable and they have a remarkable openess.
Vatel is not only a school but a mindset. Our students know that a whole word will unfold before them and that we fully support them in fulfilling their dreams.