Joining a new school is not easy. And in order to welcome and include new students, Vatel Bordeaux introduces a new concept: Vatel Bordeaux Quest (VBQ) with a first edition launched recently as part of Vatel Bordeaux' 25th anniversary. The quiz lasts 4 hours and the newcomers are asked to mingle within different small groups selected from two different classes, which constitutes a great opportunity to discover Bordeaux and build new bonds amongst students

VBQ or how to get to know other students

At the start of the school year, Vatel Bordeaux Quest is a concept introduced by two of our students who coordinated the school's 25th anniversary events: Louisiane Granger Joly de Boissel & Robin Mezzana.

Students are split into groups and get to participate in a quiz and solve riddles about the school. Each question, once answered, will provide clues on the next location of the quiz. This riddle game allows students to mingle and learn more about their new school.
Pauses are also an opportunity to strengthen the newly formed bonds and sip some beverages.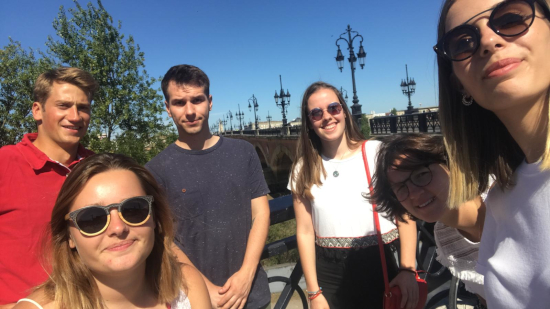 The Bridge of Stone in backgroud.
VBQ highlights the vibrant student life in Bordeaux

Bordeaux is ranked the 6th-best student city in France, and boasts numerous features that appeal to young students eager to enjoy a dynamic nightlife.

Through this Vatel Bordeaux Quest, students get the chance to discover various venues and unusual spots, also serving as stages for the quest.

The program includes: a rapid introduction to bars, cafes, restaurants, exhibition venues and leisure activities.

And there are no better spokespeople for the city than our own students.

Blandine and Robin showcase, in a video, their favorite venues and spots in the Gironde capital. Fleur, Morgane et Jeanne share their tips about places to see and things to do.
I bet you are now looking forward to participate in the Vatel Bordeaux Quest. Your turn is coming soon, stay tuned!